Are You Interested in Real Estate Investing in Clarksville TN?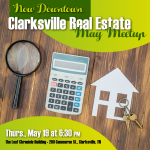 Check out the local Clarksville Real Estate Meetup! March 19th 6:30 pm at the Leaf Chronicle Building (200 Commerce St)
For more information about the Clarksville Real Estate Meetup, click on the link below:
https://www.meetup.com/ClarksvilleRealEstate/events/229987819/?rv=cr2&_af=event&_af_eid=229987819&https=off
COME MEET VICTOR JERNIGAN!
Victor Jernigan is an experienced real estate PRO whose goal is to help you recognize the difference between becoming a better investor and learning how to think like an investor. In other words, he is not selling a system on how to become a better gambler. He is showing you how to own the casino.
Regardless of your level of experience he will he will challenge what you need to learn and what you have learned about investing.
The meeting will be fun, informal, and open to questions at any time.
What you will learn at our meeting:
-Comps: Why comps are dangerous and probably useless for most investors
-Appraisals: how to improve your opportunity for successful valuation.
-Profits: You do not earn them when, or how, you think you do.
-Planning: What you have learned is not what you need to know.
-Team Building: Really, this is just wrong.
-The Big WHY: It is not the right motivation.
YOU WON'T WANT TO MISS THIS MEETING!
Who is Victor Jernigan?
His 1st real estate investment involved an option, a rezoning, and a contract assignment when he was a junior in college. He is active in the real estate market today and his years of experience give him a completely different perspective than other people who speak at REIA meetings.
His difference in perspective is caused by his direct involvement in residential developments with a market value in excess of $150,000,000 and commercial projects in excess of $60,000,000. He has been involved in just about every type of real estate transaction, either as an investor, an owner, or broker. He has done fix & flips, speculative remodels, used every type of creative financing strategy, both borrowed and loaned hard money, owned mobile home parks, owns a property management company, borrowed millions from private investors, has purchased or restructured millions in notes and commercial debt and structured many joint ventures (the largest being in excess of $20,000,000).