Episode 1: 1203 Windchase Dr – Week 1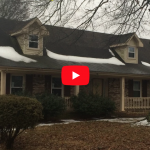 Welcome to the latest star of Clarksville's Flip This House. 1203 Windchase Dr is a 4 Bedroom 2 1/2 Bath 1 Car (large) Garage home that has lots of square footage for the money.
This home will have a new roof, new windows, new kitchen, updated baths, wood floors, new carpet, new garage door, and fresh paint. It is centrally located to the mall, downtown area, and Ft Campbell. All of this for $144,900! Home ownership is the foundation to most family's future.
When you own your home there is a sense of pride and accomplishment that will carry throughout your lifetime and your children's lifetime. Now.... Is the time to take your first step towards home ownership!
Hello Future Homeowner,
If you are looking for the perks of a new construction home, but only have a budget for an older home, Clarksville Property Solutions, LLC has the perfect answer for you.
Most of our homes offer new roofs, new kitchens, new baths, and new windows. Almost all of our homes are freshly painted and new floors. The roofs we put on our homes are 30 year dimensional shingles (that is a life expectancy of 10 years more than the normal installed roof).
On occasion we install 40 year metal roofs. We install energy efficient double hung windows. They provide the ease of cleaning from the inside as well give other options for properly ventilating a home. Clarksville Property Solutions L.L.C. prides themselves on their kitchen and baths. With our kitchens we stay up to date with the current styles.
Currently we are offering a raised panel cabinet with a staggered look and additional (elegant) crown molds. On some homes we even offer a spice rack (some folks might just choose to display their nick nacks!) Our baths have up to date vanities and often times new construction bath tubs.
We always add the flare of a gorgeous mirror to accent the beautiful vanities. Clarksville Property Solutions L.L.C. proudly uses in town vendors for their products. Our cabinets come from Jodi's Cabinet Sales. We enjoy working with Porter Paints for all of our painting supplies.
Floorz of Clarksville provides our beautiful flooring choices. American Wholesale is our favorite choice for windows and siding. Wallace Supply, Orgain Building Supply, and Lowes fills all the gaps in between.